Star Trek Toys
Check this out. As part of Star Trek's 35th Anniversary Palisades Toys (note the little plug) has released a special two-pack commemorative toy of Gene Roddenberry and Captain Kirk, together at last.
If you'd like to see the toy here's a picture.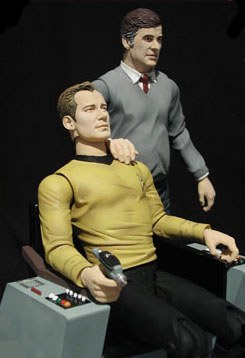 Can you believe how much fun it would be to play with a guy wearing a sweater and a tie. Unbelievable.
Anyway, by no means do we believe this should be the end of the Roddenberry toyline, As you may or may not know, Roddenberry's remains were flown into space, so click in the box below to see the latest Gene Roddenberry toy.

Click in the box!!!