Fighting G.I. Joes
They can't get along all the time, and life isn't just about dancing.
Click on the picture below to see G.I. Joe fighting.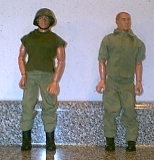 When you tire of them fighting, just click the back button on your toolbar to come back here.
If it doesn't work you need shockwave. Don't go through all that though, it's not worth it.