The Tom Bowl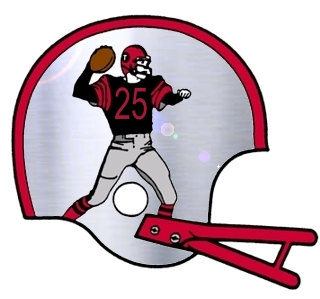 Twenty Five Years of Tom Bowl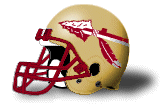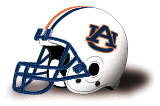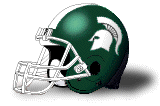 Florida State 0 Auburn 0 Michigan State 0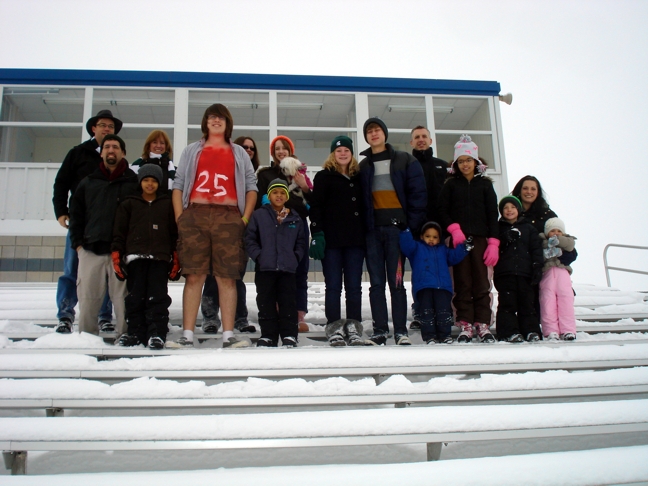 Snow, snow and more snow greeted fans at Tom Bowl XXV. It was also cold but there was optimism in the air as the Michigan State Spartans were invited and hopes were high that they might make the hour long drive up to Beal City for the game. Alas it was not to be as once again all three teams failed to show.
| | | |
| --- | --- | --- |
| Fans were shocked when they arrived to discover the front gate to Frank A. Schafer field was padlocked. There was speculation that perhaps Florida State, Auburn or Michigan State had shown up early, found the gate padlocked and left before anyone else got there. Despite the padlock fans still found a way onto the snow covered field. One fan painted himself red to honor the silver anniversary of the Tom Bowl. Attendance: 16 plus 1 dog | | Big 10 Conference says that Michigan State is not coming |
| | |
| --- | --- |
| What's this? A padlock on Tom Bowl Stadium | Not to worry. There was another gate. |
| Fan celebrating 25 years of Tom Bowl | Lots of people gathered at the KC Hall. Pretty sure it was Tom Bowl fans |
| Lots of snow, no footprints anywhere. | |
Who you would have seen at Tom Bowl XXV

The top three conference champions in college football fail to determine the true national champion in Beal City, MI on December 27th*


QB - Jameis Winston

RB - Tre Mason

LB - Max Bullough

LB - Lamarcus Joyner

DE - Dee Ford

DE - Shilique Calhoun

TE - Nick O'Leary

OL - Reese Dismukes

CB - Darquez Dennard

Logos are trademarked images of the respective schools and conference. Pictures of the players are property of whomever took them. We appreciate the use of the photos and hope the rightful owners enjoys the exposure they are being given. If not, let us know, we'll take them off and replace them with drawings or something else. So last year I wrote 10=14 just is and I have no idea why I wrote that. I never finished that influential president book. But I did read this one on the John and Robert Kennedy called Brothers that was really good. Lots of JFK stuff this year being the 50th anniversary. Star Trek: Into Darkness was not at all what I was hoping for. Still excited for Star Wars Episode VII. Still don't know if Old Luke will be in it. Lots of cool fan posters though. This is my favorite one. Movie quote of the year? "You will give the people an ideal to strive towards. They will race behind you, they will stumble, they will fall. But in time, they will join you in the sun. In time, you will help them accomplish wonders." Went to Graceland, Elvis wasn't there. Also Mammoth Cave. It was a cave and it was mammoth. Wind blew the privacy screen off my porch. I fixed it. Also blew a bunch of shingles off my roof. I didn't fix it. I don't do roofs. I like to ask my kids if they've ever been to Walla Walla. Sometimes I switch it up and say South of France. I have no idea why. Lions played in very snowy Philly last week. They played like crap.I got four stitches in my head.
*Date subject to change. Mostly on whimsy.