1989 Middle Tennessee St. 0 Eastern Michigan 0*

The inaugural Tom Bowl featured the unlikely match up of Middle Tennessee St. and Eastern Michigan. The alternate match-up was selected after the University of Colorado declined an invitation to participate in the contest. They were originally slated to play the University of Miami, but elected to play in the Orange Bowl instead. Better financial considerations were cited for the declination.

1990 Colorado ? Notre Dame ?

The "Fog Bowl" was a repeat of the original pairing from 1989. The game scheduled to be played at Stanley P. Mead field in New Canaan CT. A heavy fog rolled in shortly before game time and whether either team actually appeared was left in doubt. Occasional forays onto the playing field to look for players were inconclusive. Attendance: Two people, 14 Canadian Geese.

1991 University of Washington 0 University of Miami 0

Attendance doubled for this match-up at Stanley P. Mead Field. Unlike last year, there was no doubt for this contest. Clear blue skies made it absolutely undeniable that neither team had attended the game. Attendance: 4 people, no Canadian Geese

1992 Florida St. 0 University of Miami 0

The Icy Game. Attendance doubled again, but extreme cold weather probably prevented either team from making it to Stanley P. Mead Field for the fourth Tom Bowl. The festive atmosphere of the event raised optimism and the official Tom Bowl Trophy was unveiled before kick-off. Attendance: 8 people, 1 what may have been a Canadian Goose.

1993 Florida St. 0 West Virginia 0

The "Where the Heck is this game going to be played?" Bowl. Scheduling mishaps and the identity of the participants played havoc with the fifth Tom Bowl. Questions concerning where the game would be played, Stanley P. Mead Field, Bucs Stadium in Grand Haven, MI or Frank Schafer Field in Beal City, MI caused all kinds of logistics problems. Whether any game was played at all has never determined, although there have been rumors the game might have actually taken place in a fourth undetermined location. To further complicate things, the Tom Bowl Trophy disappeared. This was easily the darkest hour in Tom Bowl history. Attendance: Zero People

1994 University of Nebraska 0 Penn St. 0

The Tom Bowl was rejuvenated with the selection of Frank Schafer Field in Beal City, MI as the new site of the Tom Bowl. Protesters picketed at Stanley P. Mead Field to voice opposition to the move, but a festive atmosphere in Beal City made it clear the right decision had been made. Although Nebraska had accepted the invitation to participate, it was believed they were sidetracked somehow and missed the game. The Tom Bowl was honored to have a member of the Class D State Champion Beal City Aggies attend the contest. Attendance: 6 People, no animals

1995 University of Nebraska 0 Northwestern 0

The first evening game in Tom Bowl history was the landmark event of the seventh contest. All previous games had been during the day. Beal City again hosted the event and anticipation was high as the unlikely Wildcats of Northwestern were expected to make their first Tom Bowl appearance. Nebraska again failed to show after agreeing to participate, but no one really blamed them. There was a lot of snow on the ground and Beal City can be hard to find. Attendance: 4 people

1996 Arizona St. University 0 Florida State 0

It was a very cold day that greeted fans at the eighth Tom Bowl. Excitement abounded as a bus was spotted near Frank Schafer field raising hope that either Florida State or first time invitee Arizona State had showed up for the contest. Neither team could be found wandering around the stadium, but many still believe that either the Seminoles or Sun Devils had shown up for the game. Attendance: 4 people
1997 University of Nebraska 0 University of Michigan 0
The ninth Tom Bowl set an attendance record and neither team showed at a cold and icy Frank A. Schaffer Stadium in Beal City. The University of Nebraska made their record-breaking fourth non-appearance against the Wolverines of Michigan. It was believed Michigan would have shown up except the Big Ten Conference blocked them from taking a break from Rose Bowl preparations in California to fly in for the contest. The new Tom Bowl trophy was unveiled after the previous trophy vanished. Rumors ran rampant that CBS was going to broadcast the game, but they didn't show up either. Attendance: Nine people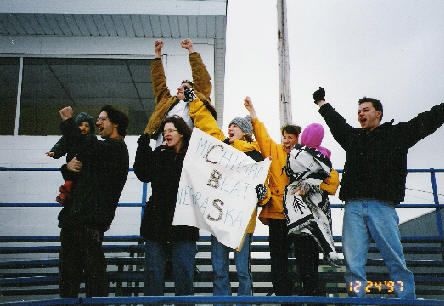 1998 Ohio State University 0 Kansas State University 0
The 10th anniversary of the Tom Bowl saw invitations given to #3 Ohio State and #4 Kansas State after the Fiesta Bowl chose to pit #1 Tennessee vs. #2 Florida State. The change in format didn't hurt attendance as the crowd matched the total set the year before in Tom Bowl IX. Expectations were high, but the temperatures were low and Kansas State didn't show up after accepting their bid likely due to the icy winds blowing across Frank A. Schafer Field. Tom Bowl apparel was introduced for the first time in the form of an official sweatshirt. Attendance: Nine people.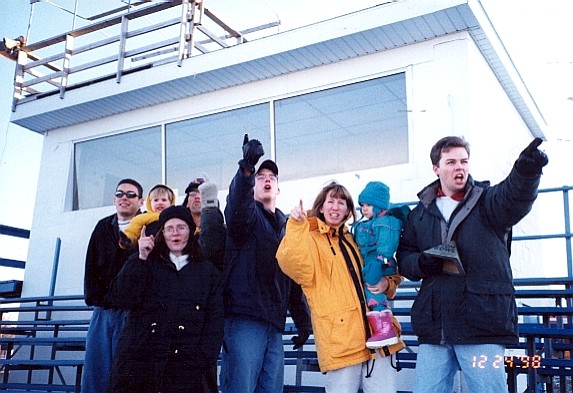 1999 University of Nebraska 0 University of Wisconsin 0
The battle to determine the true #2 went unanswered as both teams failed to show for Tom Bowl XI. Hopes were raised upon the arrival of fans at Frank Schafer Field because the wire strung across the entrance was down, but no teams were to be seen. Not enough snow had fallen for there to be any footprints so if the teams had shown up and already played the game there were no eye-witnesses.
After the game, the official Tom Bowl helmet was presented by a loyal Tom Bowl fan to the Tom Bowl president. Attendance: 10.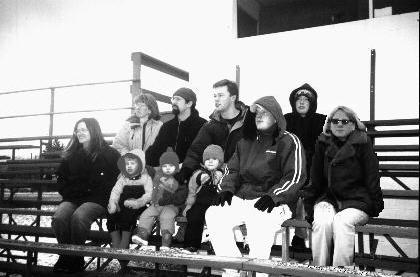 2000 University of Oklahoma 0 University of Miami 0
Arguably the worst weather conditions in Tom Bowl history could not prevent the setting of a new attendance record. The gate was open, the chain was down, and an area had been plowed, but drifting snow banks and blowing wind made conditions harsh and probably contributed to the failure of either the Sooners or Hurricanes to show up for the game. Even the promise of media coverage by the Mt. Pleasant Morning Sun wasn't enough to entice either team. Attendance: 12 fans, 2 media.
2001 University of Colorado 0 University of Miami 0
It was a cold, blustery day at Tom Bowl XIII. Even having Molly the two-liter bottle retrieving dog in attendance for the halftime show couldn't entice either Miami or Colorado to make the trip to Beal City for the battle to determine the true #1 team in the nation. There was a lot of controversy over whether Colorado or Oregon should have been invited to the game, but in the end the decision was made to go with the Buffalos. Attendance: 12 fans, 1 dog.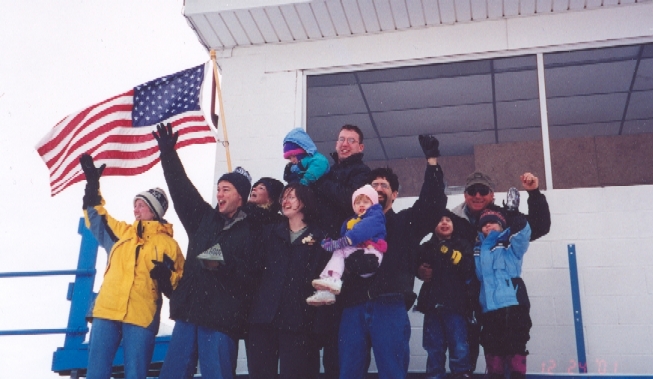 2002 University of Iowa 0 Ohio State University 0
This year the Tom Bowl decided to go in a different direction and invited the two top teams in the Big 10, Ohio State and Iowa for the Big 10 Championship. Both teams went undefeated in the conference but didn't play each other. Fans of the Tom Bowl were in for a surprise when they arrived at Frank A. Schafer field for Tom Bowl XIV. The stadium was gone. Well, it wasn't gone, it had moved. The new Frank A. Schafer field is currently under construction and after a brief delay fans found the new home of the Tom Bowl and made the journey to the new facility. Due to the confusion, it is widely believed that Iowa and OSU arrived early, couldn't find the stadium, and wandered off somewhere. This theory gained support when two busses were spied near the field. The Tom Bowl was also pleased to receive a letter from Ohio State and the Big 10 conference concerning the game. Attendance: 11 (13 if you count tailgaters but they wouldn't get out of their car)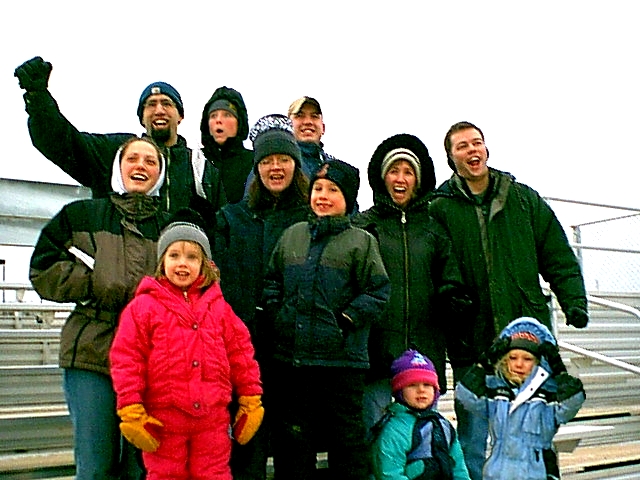 2003 University of Southern California 0 Louisiana State University 0
Unfortunately the battle to determine the true national championship ended in a scoreless tie as both teams failed to show for the most demanded Tom Bowl in its 15 year history. Upon arrival at Frank A. Schafer field the gate was kind of frozen shut and it took some doing to get it open leading to speculation that perhaps the Trojans and Tigers had tried and only succeeded in loosening the gate before giving up and heading to wherever they may have headed to play the game. The Tom Bowl was very excited to have its first "off-the-street" attendees that weren't Canadian Geese as the daughter of Frank A Schafer and two of her grandchildren attended the game allowing the Tom Bowl to set a new attendance record. Attendance: 14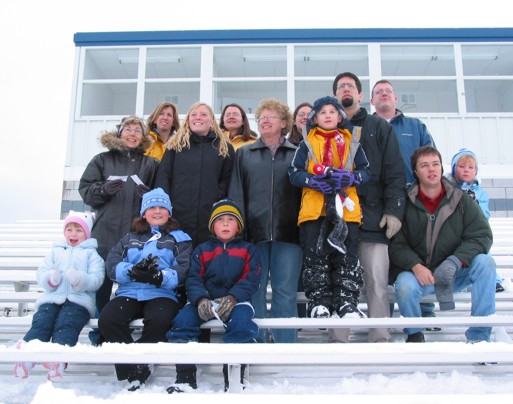 2004 University of Southern California 0 Auburn University 0 University of Oklahoma 0
Attendance records were shattered as 28 fans attended Tom Bowl XVI hoping to see USC, Oklahoma and Auburn play to determine the true national championship. The event is already being called the greatest Tom Bowl in the game's 16 year history. The Tom Bowl President gave everyone a scare when he fell down on the ice outside the stadium but he was totally fine. The game featured a post-game cheering session. Due to coverage by CNN Headline news security was brought in and a state police cruiser was spotted in the "four corners of excitement" district of downtown Beal City anticipating the arrival of the teams. Unfortunately, all three failed to show. We think perhaps they were waylaid by the airline problems that plagued the country over the holidays.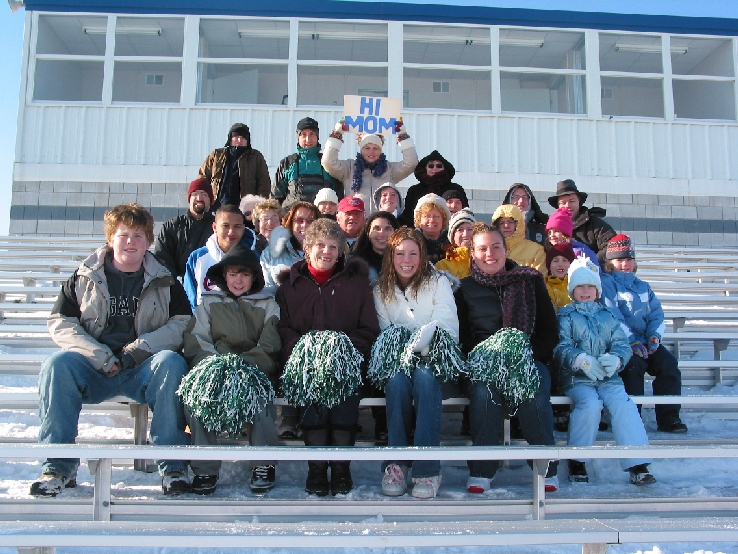 2005 University of Southern California 0 University of Texas 0 Penn State University 0
Fans stayed away in droves for Tom Bowl XVII as the game experienced its first rainy day ever. There has been nasty cold, wind and even balmy for December weather but the highly anticipated Tom Bowl XVII game was just all wet. There was high optimism heading into the game as articles appeared nationally in The Sporting News and in-state with the Saginaw News but despite that the Tom Bowl had its smallest crowed in years. An advanced bomb detection squad surveyed the stadium prior to kick off. Letters were received from Penn State who flat out turned it down and the Pac-10 which accepted the bid on USC's behalf and stated they would not be attending the game. They followed through and did not appear. Texas didn't show either. Attendance: 12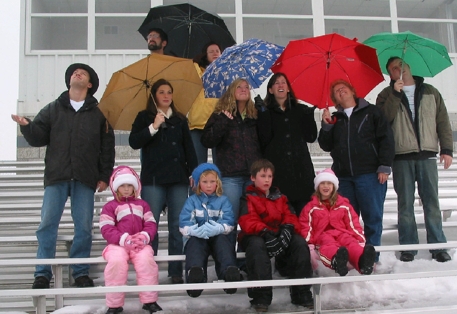 2006 University of Michigan 0 Ohio State University 0
Pleasant weather greeted fans hoping to see The Rematch between Ohio State and Michigan in Tom Bowl XVIII. A white bus, something not scene for some time if ever in the area, raised hopes that the Wolverines or Buckeyes had made the trip to Beal City but they were no where to be found. The Big 10 had even directed the Tom Bowl to contact their media director about protocol for televising the game which raised hopes. Fans were so excited at the prospect of seeing the two teams played they came with signs. Attempts to page the teams proved fruitless. Alas, despite all these efforts the most eagerly awaited Tom Bowl this year ended in a scoreless tie. Total attendance: 13.
2007 University of Hawaii 0 University of Kansas 0 Ohio State University 0
It was a bitterly cold day that greeted fans hoping to see Hawaii, Kansas and Ohio State in Tom Bowl XIX. A frozen gate at Frank A. Schafer may have kept the three teams from making it into the stadium for kick off and almost kept the fans out as well. The frozen condition of the field led to the theory that the three teams had appeared, played and left without leaving any tracks after entering the field from another entrance but their was little evidence to back this possibility. One of the newest Beal City attractions, Lenny the Chihuahua, attended the game and was quite shivery. The extreme cold, scheduling conflicts and other factors led to the smallest crowd in recent Tom Bowl history. Total Attendance: Eight people, one dog.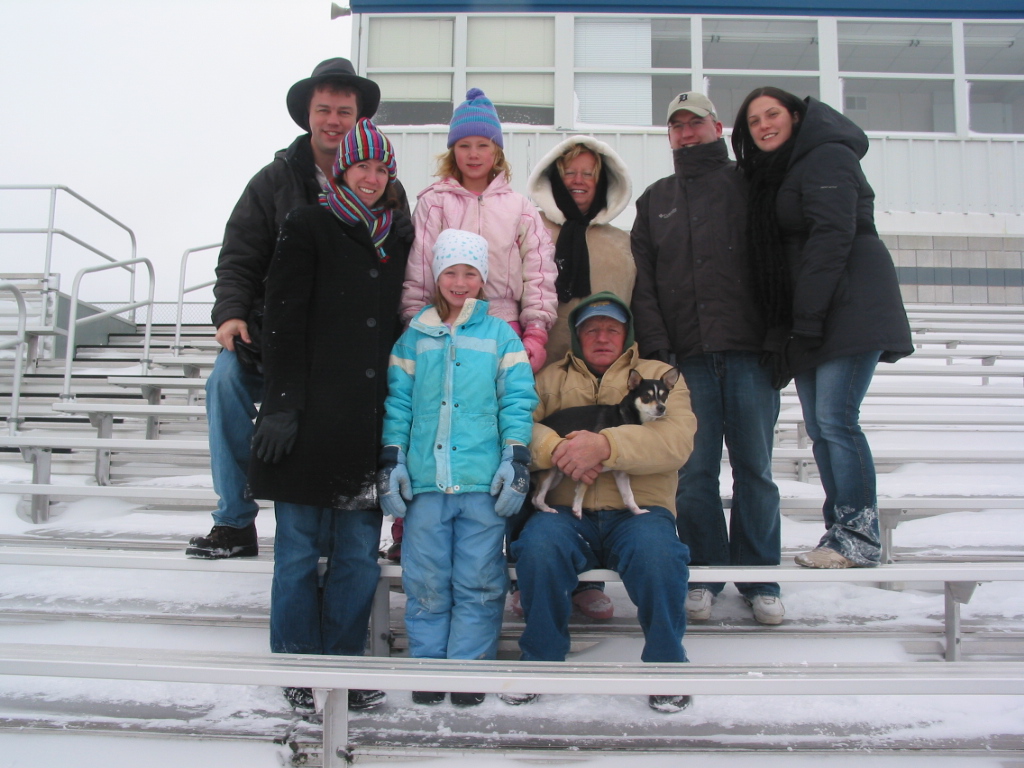 2008 Oklahoma 0 Florida 0 Texas 0
The Tom Bowl marked its 20th anniversary with a barn burning three-way tie that left no questions answered about who would be the top college football team in the nation. It was a snowy covered field that greeted fans for Tom Bowl XX. A large pile of snow nearly a foot high blocked the gate leading into Frank A. Shafer field. Luckily a shovel was found to allow fans access to the stadium. It is possible that the Sooners, Gators and Longhorns also encountered the intimidating snow bank and, because they didn't have a shovel, elected to go home or play the game elsewhere. On a side note, the Tom Bowl suffered its first injury as the Tom Bowl President slipped on the icy bleachers and hit his shin hard enough that he ended up at the Central Michigan Community Hospital ReadyCare where he was given four stitches. Attendance: 13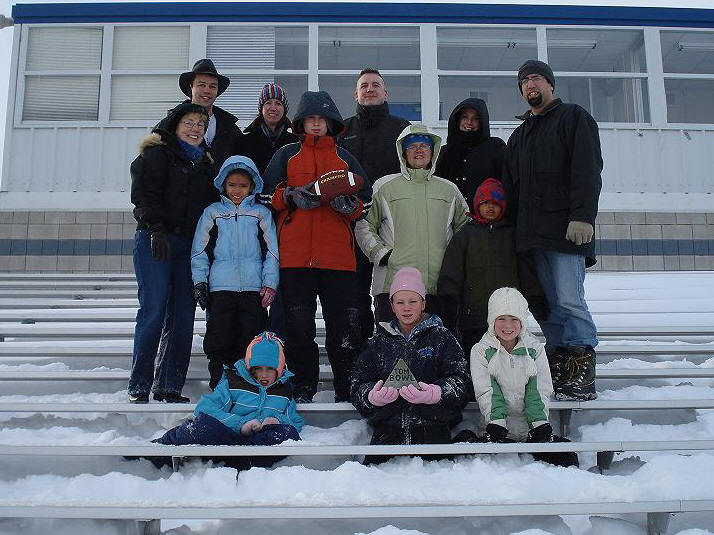 2009 Alabama 0 Texas 0 TCU 0 Cincinnati 0 Boise St. 0 Emory 0
It was a bitterly cold day that greeted fans for Tom Bowl XXI and its unprecedented six team game. The game featured all five undefeated teams from 2009, Alabama, Boise St., Cincinnati, TCU and Texas. In addition, to round out the teams, an invitation was extended to Emory University who is currently sporting a 119 year unbeaten streak*. There were no major injuries reported although it was darn cold. A new record for youngest person to attend a Tom Bowl was set at this year's game. Attendance: 14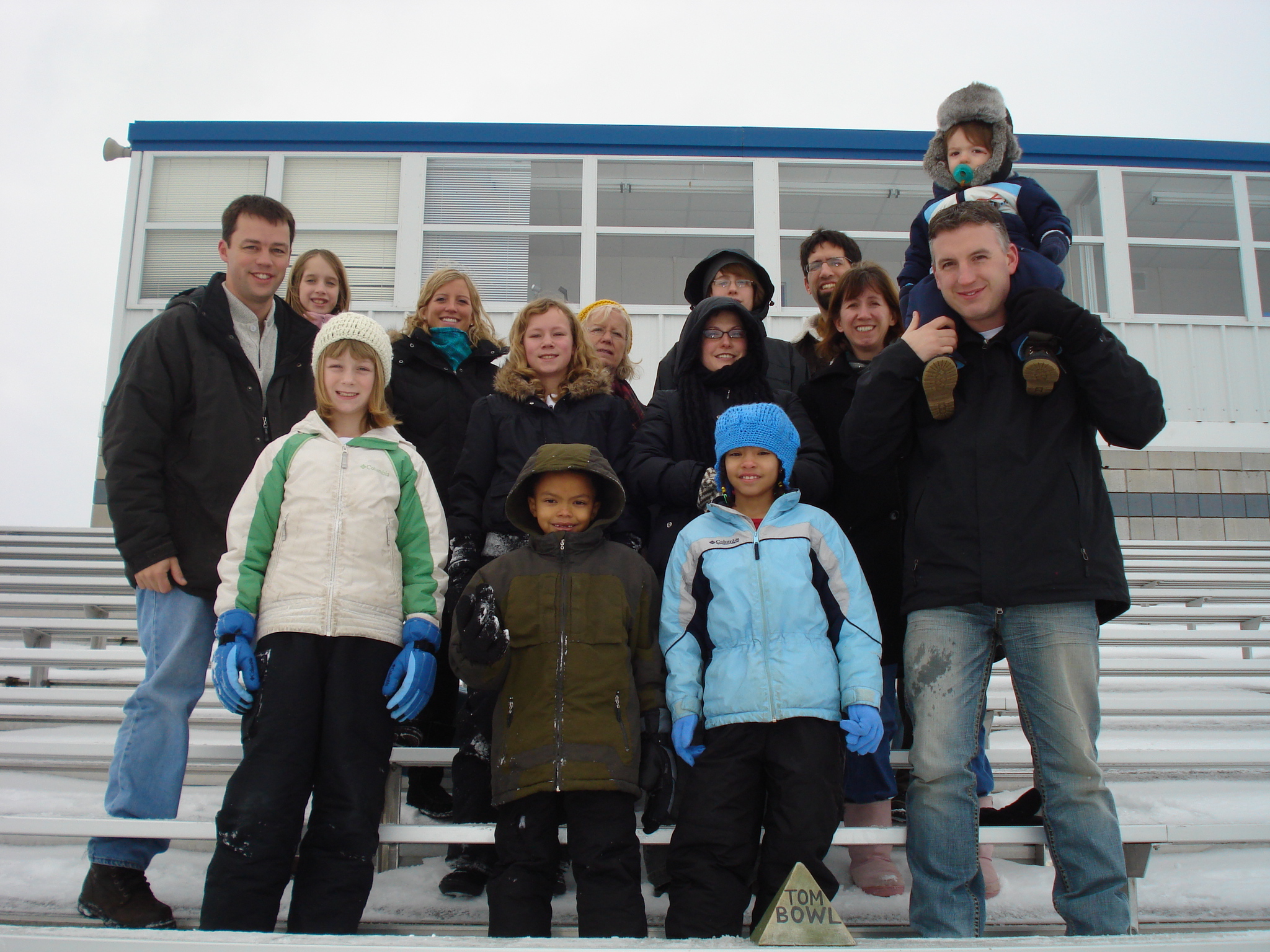 2010 Oregon 0 Auburn 0 TCU 0
The first morning Tom Bowl brought an excited group of fans to Frank A. Schafer field for Tom Bowl XXII. One fan yelled "football game, football game" as he ran through the snow in hopes of seeing the game. Blue skies, a stadium gate that had previously been opened and footprints leading to the field raised hopes that the three teams had shown up for the game but they were no where to be found. Some younger fans even ran out on the field just to confirm the absence of the teams. Attendance: 14.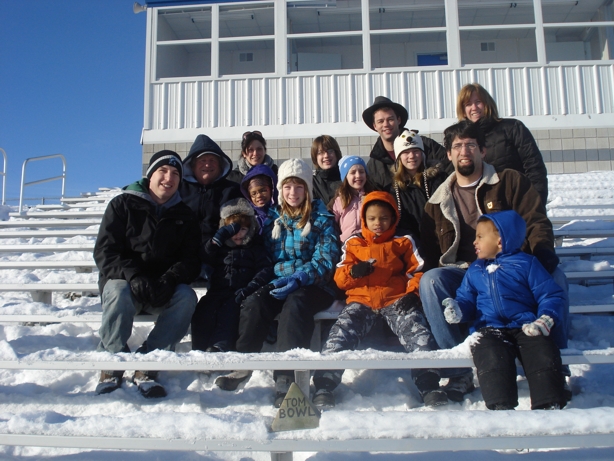 2011 Louisiana State 0 Oklahoma State 0 Oregon 0
In one of the warmest Tom Bowl in years all three teams failed to show for Tom Bowl XXIII. The three way game matched the top three conference champions in college football to determine the true national champions of college football. A noticeable lack of snow made it difficult to determine if the teams had showed up for the game earlier than scheduled. However there were several buses parked outside the stadium so odds are that they may possibly have been around somewhere. Attendance: 14.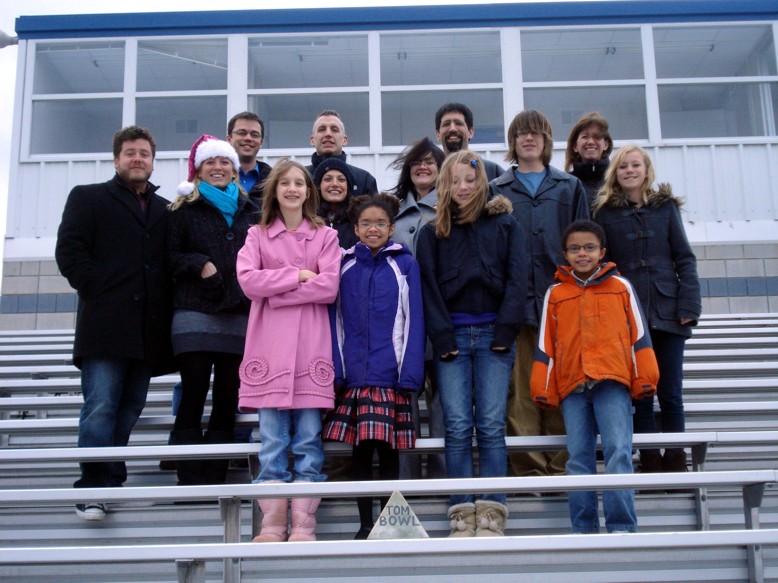 2012 Notre Dame 0 Alabama 0 Stanford 0
It was a cold, cold day that greeted fans at Tom Bowl XXIV. In what was easily the shortest Tom Bowl in the 24 year history of the game the frozen fans waited about three minutes but to no avail for an appearance by Notre Dame, Stanford and Alabama. It was so cold the Tom Bowl trophy didn't even come out of its bag .There were a number of buses present, including one that seemed to be having some kind of battery problem. This sign of human activity though did not prove out to be one of the teams. Attendance: 14 people, 1 dog, all freezing.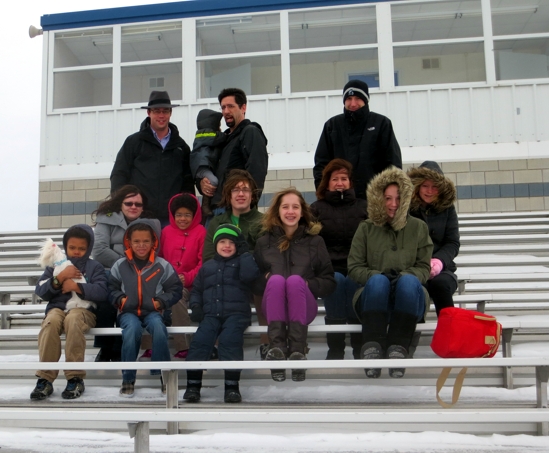 2013 Florida St. 0 Auburn 0 Michigan State 0
Snow, snow and more snow greeted fans at Tom Bowl XXV. It was also cold but there was optimism in the air as the Michigan State Spartans were invited and hopes were high that they might make the hour long drive up to Beal City for the game. Alas it was not to be as once again all three teams failed to show. Attendance: 16 plus 1 dog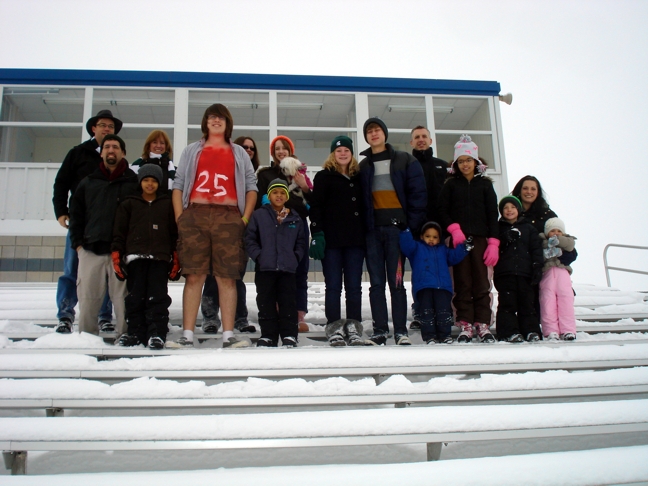 2014 Florida State 0 Oregon 0 Alabama 0
In what was the warmest Tom Bowl in some time fans were mildly unsurprised to discover that all three teams had failed to show for Tom Bowl XXVI. The gate wasn't locked, but the parking lot was full as fans poured into the stadium and then poured right back into their cars. The lack of snow masked any footprints that may have been made by any of the three teams that didn't show.
Somehow or other the Tom Bowl President forgot to wear his hat to which one Tom Bowl fan asked "Where's your hat?" Attendance: 19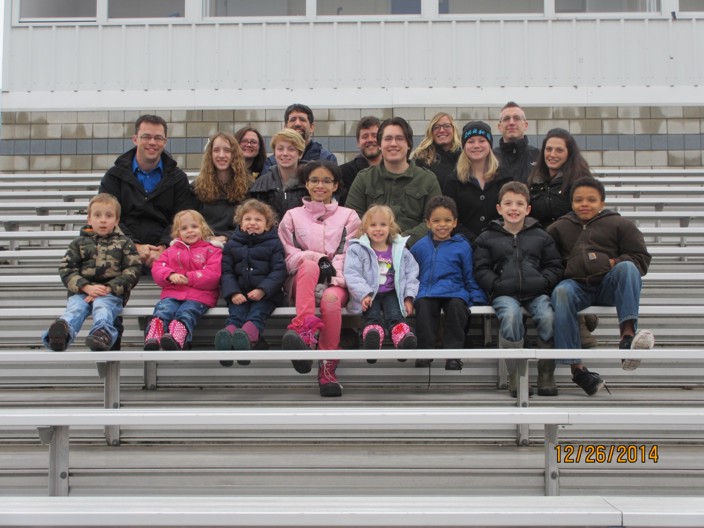 2015 Alabama 0 Clemson 0 Michigan State 0
The weather was a bit chilly but it had no bearing on the epic tie that would be Tom Bowl XXVII. No reported sightings of the teams were reported but if they did, due to scheduling issues, no one would have been there to greet them. Instead fans gathered in a remote location (remote in terms of remote to Beal City) and gathered around the TV to watch the action not take place. It is possible that the teams did gather in Beal City to play out this epic. The world will never know for sure. Attendance: 0 TV viewers 20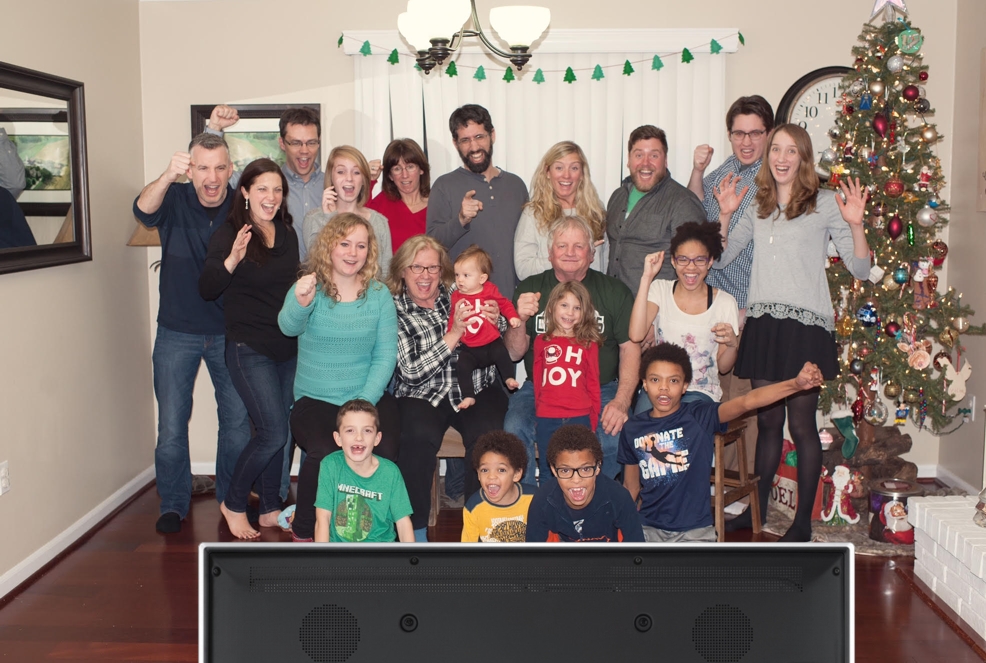 2016 Alabama 0 Clemson 0 Washington 0
Advanced scouts reported no team buses in Beal City so fans elected to see watch the lack of action on TV. Non-existent on-site attendance was attributed to a tight schedule, a good dinner, no confirmation from the invited teams and a planned medical procedure. Nothing serious, nothing to worry about here and, once again, no teams to watch. There were two dogs in attendance, one of which was real. Attendance: 0 TV Viewers: People 21 Dogs: 2 (1 real)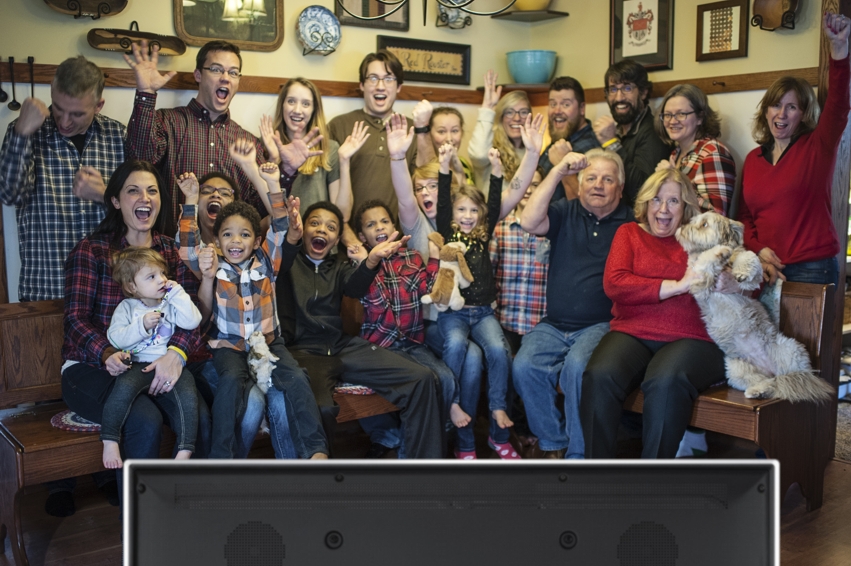 2017 Clemson ? Alabama ? Georgia ?
With temperatures around 11 degrees below zero no one was willing to attend the epic clash of Tom Bowl XXIV. There were at least at least two people, maybe three, mildly excited to attend but no one was interested in frostbite. Attendance: TV Viewers 0: People 0 Dogs: 0 People who went outside and thought better of it: 1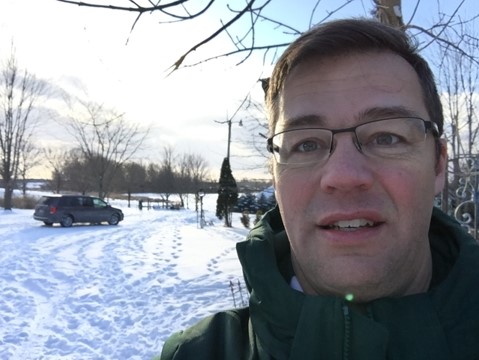 2018 Alabama 0 Clemson 0 Central Florida 0
It was another adventure in scoreless defenseless football as all three teams successfully did not attend Tom Bowl 30. With clear skies and no teams in sight and a lock on the gate Tom Bowl 30 lived up to the hype. Attendance: Fake News tally - 13. Actual tally - 1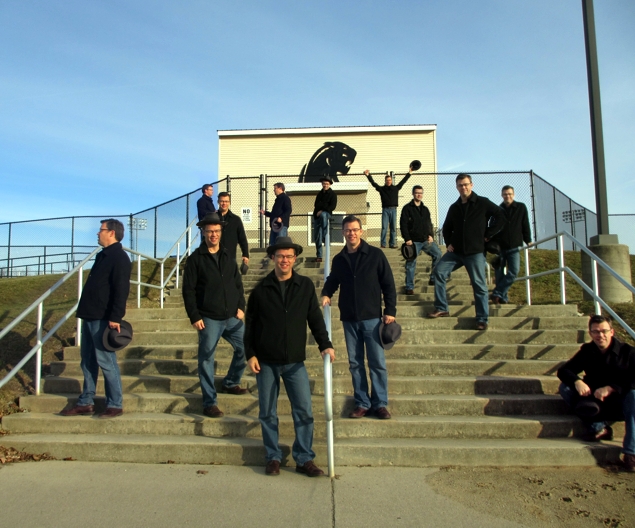 2019 Ohio State 0 LSU 0 Clemson 0
It was a beautiful day at Panther Stadium for Tom Bowl XXXI. While the weather was perfect, none of the three teams seemed to show up. Actual people in attendance increased by 300% which demonstrates why percentages are usually meaningless. Attendance: 3 but 6 if you count the two people who walked by with their dog and the guy hitting lacrosse balls against the school.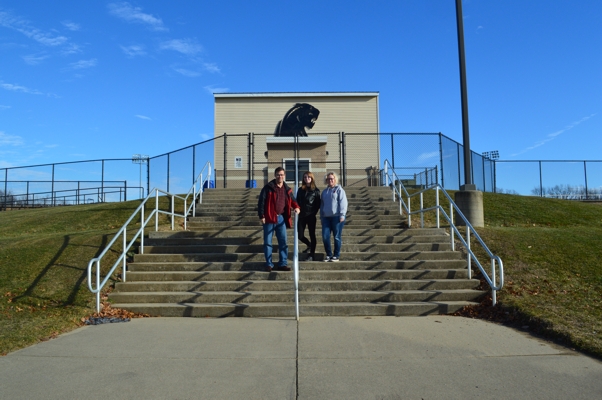 2020 Ohio State 0 Alabama 0 Clemson 0
No one appeared for Tom Bowl XXXII, in what would have been an epic game featuring three future first round NFL picks. COVID restrictions and cold weather didn't help. Attendance: None.