The Tom Bowl

Tom Bowl XXI ends in six-way scoreless tie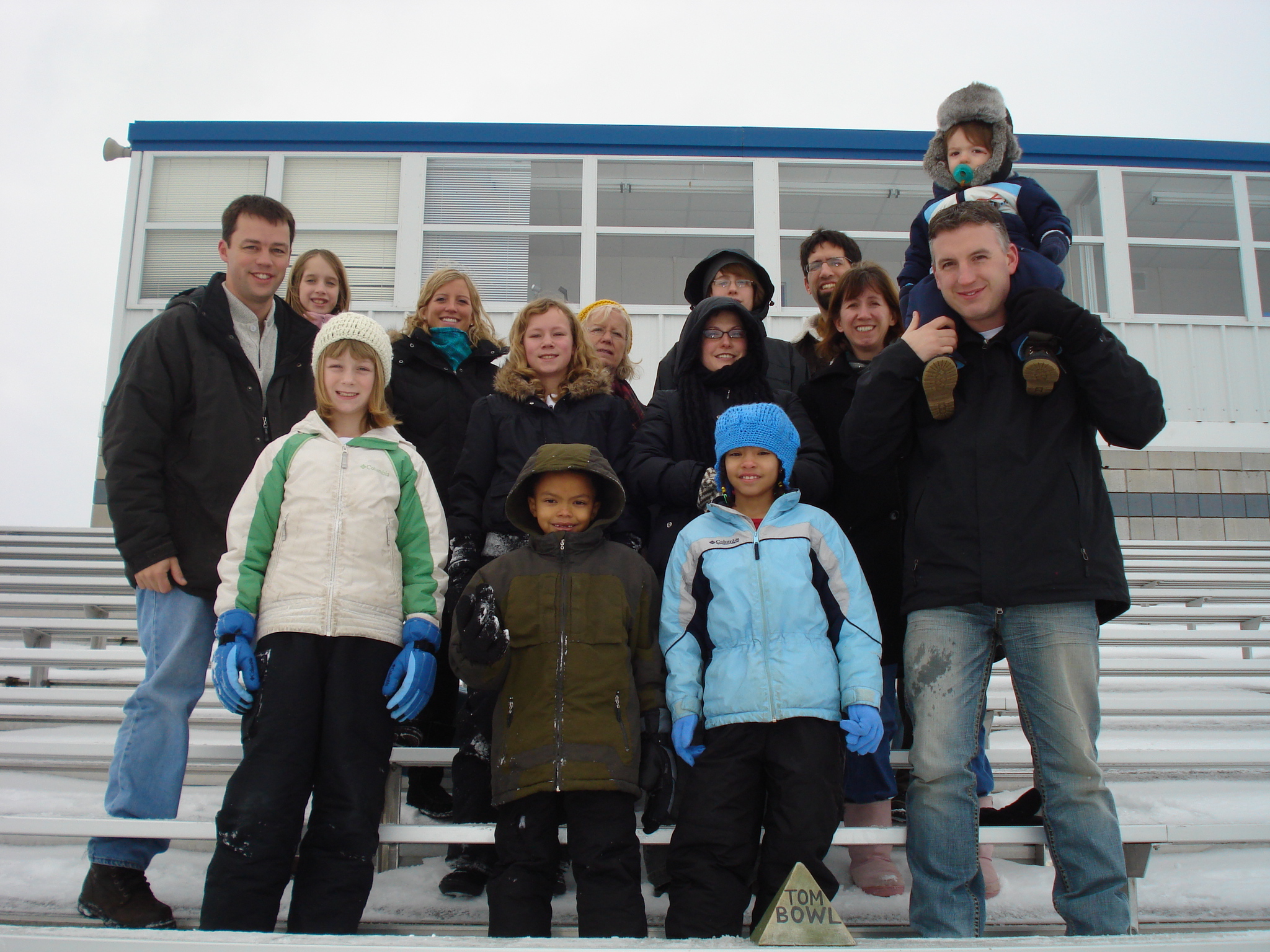 It was a bitterly cold day that greeted fans for Tom Bowl XXI and its unprecedented six team game. The game featured all five undefeated teams from 2009, Alabama, Boise St., Cincinnati, TCU and Texas. In addition, to round out the teams, an invitation was extended to Emory University who is currently sporting a 119 year unbeaten streak*. There were no major injuries reported although it was darn cold. A new record for youngest person to attend a Tom Bowl was set at this year's game. Attendance: 14
How did this work?
To avoid several weeks of travel and pesky extra games Tom Bowl XXI featured a unique six-team overtime winner takes all format. Each team faced each other using the current college football sudden death rules. Each team got one series of offense and one series of defense in a round-robin format. In the end, each team would have five turns on offense and five turns on defense. If there was still at tie after each team had its chance, than a second round of overtimes would ensue between the remaining teams. The team with the most points at the end would be declared the winner and true national champion of college football. However, being that none of the six teams arrived, none of this was needed.
*Unbeaten streak may date back to 1836.
The sudden death game rotation was set as follows:
Round 1:

Alabama
vs.
Texas

Round 2:

Cincinnati
vs.
TCU

Round 3:

Boise St.
vs.
Emory

Round 4:

Alabama
vs.
TCU

Round 5:

Texas
vs.
Cincinnati

Round 6:

TCU
vs.
Boise St.

Round 7:

Alabama
vs.
Emory

Round 8:

Cincinnati
vs.
Boise St.

Round 9:

Texas
vs.
TCU

Round 10:

TCU
vs.
Emory

Round 11:

Alabama
vs.
Cincinnati

Round 12:

Texas
vs.
Boise St.

Round 13:

Texas
vs.
Emory

Round 14:

Alabama
vs.
Boise St.

Round 15:

Cincinnati
vs.
Emory
| | | |
| --- | --- | --- |
| The perpetually frozen gate gives fans trouble as they arrive at the stadium | | The Tom Bowl trophy (in the red bag) makes its way into the stadium as a fan keeps a respectful distance behind it |
| Programs for Tom Bowl XXI | | Fans play on the Beal City Snowy Hill attraction |
Who you would have seen on the field in Tom Bowl XXI

Alabama

Texas
Cincinnati


RB - Mark Ingram


QB - Colt McCoy

QB - Tony Pike


LB - Rolando McClain


WR - Jordan Shipley

ST - Mardy Gilyard
TCU
Boise St
Emory


DE - Jerry Hughes


CB - Kyle Wilson


Emory Player


QB - Andy Dalton


QB - Kellen Moore


Emory Player

* Logos are trademarked images of the respective schools and conference. Pictures of the players are property of whomever took them. We appreciate the use of the photos and hope the rightful owners enjoys the exposure they are being given. If not, let us know, we'll take them off and replace them with drawings or something else. You know who you won't see in Tom Bow XXI? Brian Kelly. Once again we have a QB named Colt in the Tom Bowl but its the same one from last year so its no big deal. Some people may thing inviting six teams in excessive, they may be right. I didn't finish the John Adams book, but I'm reading this Abraham Lincoln book that is pretty good. It just took a long time to get started. I really enjoyed Star Trek. But it also made me a little depressed. I like Shatner as Kirk. I have a 2005 NFL Football game for my XBOX. Every now and then I'd play a game and I'd get destroyed and be frustrated and I wouldn't play it again for awhile. Then it occurred to me, maybe I shouldn't be the Detroit Lions every time. So I played as the Patriots and suddenly I'm awesome. I've moved past getting worked up about the Lions. I still have the cup, it's looking better now because the picture on it has almost worn away to the point where it's just a plain white cup. The best quote and really the only one I remember is "You know, traveling through time, changing history... that's cheating." "A trick I learned from an old friend." So I heard this vague rumor about another Star Wars movie. It'll probably be some lead in to a TV show. Not a lot, but more than I expected, remember the Earth Two Superman. My daughter got a frog. It died. So she got another frog. It's still alive. The air conditioner in my car only works on high and its really noisy. I didn't put the conference logos up, at least not at first. Too much stuff on the page already with all these teams. The garage is the same as it ever was. Lately I find myself saying "I take it the odds are against us and the situation is grim." Way to many Trek references this year. There are some really good new shows on TV this year. I cannot for the life of me spell Cincinati. I have to use the spell check every time.