The Tom Bowl
| | |
| --- | --- |
| Tom Bowl Museum: Past Game Pages | |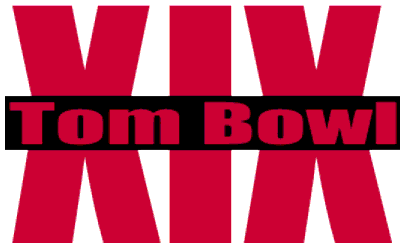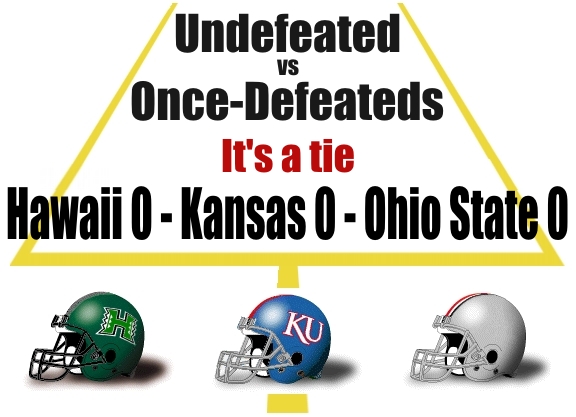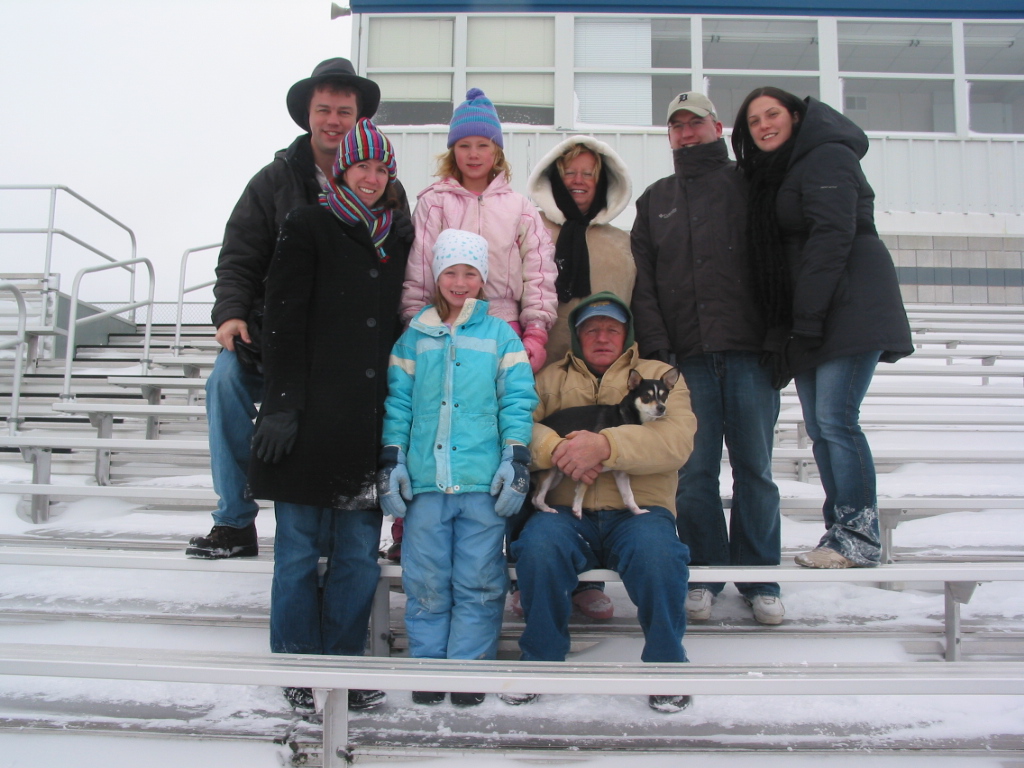 It was a bitterly cold day that greeted fans hoping to see Hawaii, Kansas and Ohio State in Tom Bowl XIX. A frozen gate at Frank A. Schafer may have kept the three teams from making it into the stadium for kick off and almost kept the fans out as well. The frozen condition of the field led to the theory that the three teams had appeared, played and left without leaving any tracks after entering the field from another entrance but their was little evidence to back this possibility. One of the newest Beal City attractions, Lenny the Chihuahua, attended the game and was quite shivery. The extreme cold, scheduling conflicts and other factors led to the smallest crowd in recent Tom Bowl history. Attendance: Eight people, one dog.

The frozen entrance gate to Frank A. Schafer Field

The Tom Bowl President working to get the gate open


Fans waiting outside the stadium before the game, possibly being entertained by Lenny the Chihuahua


The ice covered playing surface at Frank A. Schafer Field. Could the ice have masked the footprints of the three teams?

Tom Bowl XIX was dedicated

to Tom Bowl Hall of Famer
Molly who left us 9/25/07

"She was a good dog."
Who you would have seen at Tom Bowl XIX


QB - Colt Brennan

DB - Aqib Talib

LB - James Laurinaitis

WR - Davone Bess

OL - Anthony Collins

LB - Vernon Gholston

OLB -Solomon Elimimian

QB- Todd Reesing

DB - Malcolm Jenkins
* Logos are trademarked images of the respective schools and conference. Pictures of the players are property of whomever took them. We appreciate the use of the photos and hope the rightful owners enjoys the exposure they are being given. If not, let us know, we'll take them off and replace them with drawings or something else. This was by far the easiest time I ever had finding pictures of people on the web. This internet thing is on FIRE. I just finished this book called 1920: The Year of the Six Presidents which is about how their were six once, present or future presidents, Roosevelt, Wilson, Harding, Coolidge, Hoover and FDR all vying for the presidency in one way or another. It was good. Wilson comes across as a real nut job and it turns out that Harding and FDR were golf buddies. Who knew? I had ankle surgery last spring and now my ankle no longer hurts but I couldn't walk on it for six weeks which was not fun. The only cool part was the little cart I got to zip around on at the office. I wouldn't mind another Star Wars movie but for now I'm just going to be excited about Indiana Jones and The Kingdom of the Crystal Skulls which is kind of a clunky title. . I thought Shrek the Halls was better than Shrek the Third. I finally played Halo for the first time and the first thing I did was jump in this jeep thing, ram into a tree and roll over the jeep which killed my little gunner dude. I felt bad for him. Nothing of note has happened in the garage except we finally threw away the crappy welcome mat that actually created a bigger mess than it prevented because it was made out of this little green fiber things that broke when you stepped on them and got all over the place. There is a Monkees episode where Peter Tork says "Sixty years of service... roooned!" which I like to quote but it's so darn obscure. I finally kind of got sick of turkey sandwiches but I don't expect it to last. Detroit Lions drive me crazy. My office is as clean as it can get right now, I also don't expect that to last. I have a trunk load of stuff I've been driving around for a few weeks for Goodwill. We are supposed to have a big ice storm tonight, I don't believe it. You want a movie quote, how about "I don't know what happened! I mean, I just tried to talk to these guys, and then there was a dust buster, a toupee and a life raft exploded... now ones bald ones in a boat and they're both unconscious!" You can use anything as an insult. Just walk up to someone and say derogatorily... "You cupholder" or "Get out of here you sandwich eater" or "Listen up, napkin grabber. I've had enough" Try it, it works. I screwed up the picture of Malcolm Jenkins at first. I put two pictures of James Laurinaitis instead. It was hard to find a picture of Malcolm Jenkins. Thanks to everyone that pointed it out.