Arguably the worst weather conditions in Tom Bowl history could not prevent the setting of a new attendance record. The gate was open, the chain was down, and an area had been plowed, but drifting snow banks and blowing wind made conditions harsh and probably contributed to the failure of either the Sooners or Hurricanes to show up for the game. Even the promise of media coverage by the Mt. Pleasant Morning Sun wasn't enough to entice either team. Attendance: 12 fans, 2 media.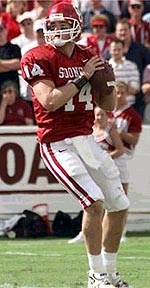 QB Josh Heupel
(Heisman Runner up)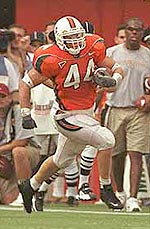 LB - Dan Morgan
(Bronko Nagurski Winner)
* Logos are trademarked images of the respective schools and conference. Pictures of the players are property of whomever took them. We appreciate the use of the photos and hope the rightful owners enjoys the exposure they are being given. If not, let us know, we'll take them off and replace them with drawings or something else. It's almost hard to believe that both these schools are back on top after having been gone so long. When was Oklahoma good, during the Ford Administration? I liked President Ford. He was a good guy. When Jimmy Carter said he wanted to thank him for all that he had done for his country, I thought that was pretty cool. It's darn cold outside. I had to scrape my car this morning and it was inside the garage. That's wrong. I also fixed the Christmas Tree lights last night. I think Christmas lights were designed to break very easily. I had to replace a fuse if you can believe it. (Not the house fuse.) Darth Vader was Luke's father, in case you didn't know. Do you know what a Sooner is? It was the name given to the people in Oklahoma who got there sooner than other people while claiming property for themselves. That's something to think about. Do you know what Miami is named after? If you don't, then you need to watch the Weather Channel. But not right now, later on, during storm season.